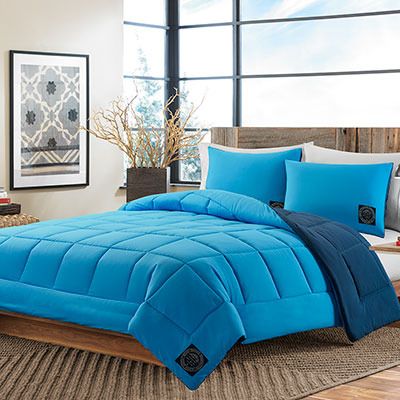 Written by: BeddingStyle
Summary: Here are some tips to help you change the style of your son's bedroom.
As your son gets older, he's going to want a particular style for his bedroom that will likely change over time. Earlier years are often marked by cool stuff, like dinosaurs and super heroes, while early adolescence brings an interest in coordinating and neatness. Right around 12 or 13, you might want to consider painting the room or swapping your boys bedding for newer and more mature styles.
Consider Colors Before Patterns
When you're repainting the room, consider how your colors will coordinate with the bedding and curtains. Nautica bedding has a lot of blues and grays, which are very easy to build tonal patterns around for interior design. , You could even add decals to adhere to walls? You don't need much artistic talent to adhere stickers to the wall, and they are affordable. You'll be glad when your child's tastes change every other year. You can even order custom decals if you find a bedding set you like and want to do something similar on the walls or closet door.
Storage
Both boys and girls bedding are easy to store, and don't take up too much space. You might consider a crate you can keep in the hall closet to keep things organized, but they aren't as large as some of your other sets. Vacuum packing is an option, but you should be careful to read manufacturer instruction related to cleaning and long term care first. With proper care, luxury bedding can last a lifetime so you may have something you can pass down to kids.
Bio: Get 20% off of your first order when you shop with BeddingStyle.